Introduction to refereeing and level 1 and 2 coaching course in Burkina Faso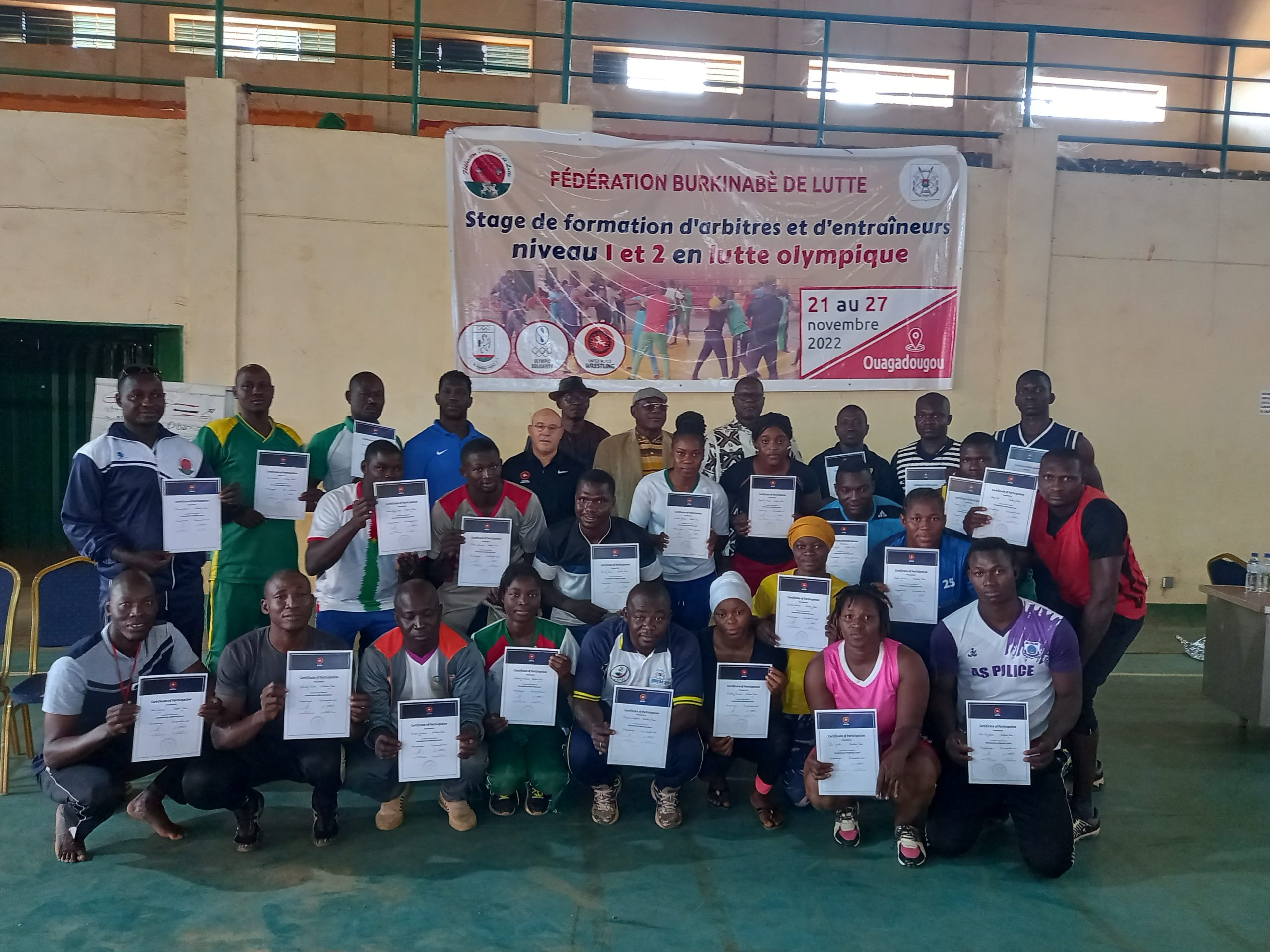 Olympic wrestling: Introduction to refereeing and competences building for level I and II coaches
Ouagadougou, from November 21 to 27, 2022
About twenty coaches and ten referees from all walks of Burkina Faso were invited by the Burkinabe wrestling federation to participate in training delivered by United World Wrestling from November 21 to 27, 2022.
This training, which obtained the support of Olympic Solidarity through the support of the Burkinabe National Olympic Committee, saw the intervention of two experts: Kamel Bouaziz, uww referee educator and Vincent AKA, uww master educator.
To make the rules better known, understood and applied, but also to understand technical notions, it was decided on site to allow all participants to take part in the two training sessions together. This was very beneficial, as YAKNABA coach of the AS police club points out, "it allowed me to acquire notions in refereeing and as a coach, knowing refereeing allows me to better train my wrestlers. In the end, the fact of working together "coaches and referees" opened our minds and allowed us to see that we coaches have an interest in collaborating with referees. I even discovered that I also like refereeing"
As for the trainer Kamel Bouaziz, at the end of the three days of training, he left very satisfied with the performance of the participants and told them in these terms: "Listen, I am very happy with what I saw here, after only three days, you know how to apply the rules, give points, start and end a fight in Olympic wrestling. I encourage you to continue and work in this direction, and we will help you so that Burkina Faso will get international referees. You can count on me "
Thus, all the coaches and referees from all the clubs in Burkina Faso were able to benefit at the same time from training in "introduction to refereeing in Olympic wrestling" and training in UWW level 1 and 2 coaches.
Therefore, this week also initially allowed to train level 1 coaches while allowing those who already had their level 1 to share their knowledge and experience with them and thus consolidate the experiences acquired in recent years.
In its realization, this course consisted initially in training the participants of level 1 to know how to train and supervise the wrestlers in complete safety. It also made it possible to further strengthen those who had level 1 and who participated in level 2. Then in a second step, this course also made it possible to train participants on level 2, the objective of which is to learn planning, weight management thanks to knowledge in nutrition, knowledge of the seven basics skills in wrestling and above all to work to improve a wrestler physically, technically, mentally and well-being.
At the closing ceremony, the president of the Burkinabe wrestling federation, Pierre Badiel: "today Olympic wrestling can bring medals to Burkina, and it is this style of wrestling that is practiced at the Olympic Games. The objective is to be able to have wrestlers for the Olympic Games. And to have wrestlers in the Olympic Games, and to have wrestlers, you must first train coaches and referees. We requested an internship from the international federation through the National Olympic Committee, which kindly supported us so that we could organize this internship with the arrival of two experts. Including an expert in refereeing and an expert in training. The objective for the Burkinabe wrestling federation is to develop and promote Olympic wrestling in Burkina. I am very satisfied, I even followed the training and as pointed out by the expert Kamel Bouaziz who was very satisfied with the commitment of the trainees"
For Vincent AKA, Development Officer of United World Wrestling, the Burkinabe wrestling federation is beginning to develop Olympic wrestling in perfect synergy with the new 2022-2026 strategy, the leitmotif launched by President Lalovic being "Together, let's take a big step forward for wrestling".