Welcome to United World Wrestling Academy
The United World Wrestling Academy is an integrated online learning portal designed to provide information, tools and resources in order to support and enhance the knowledge and value of the discipline of wrestling.
The e-learning platform allows users to watch educational videos, access the latest scientific researches in wrestling and connect with people sharing the same interest. It consists of 7 main sections: ABOUT, COURSES, RESOURCES, VIDEO LIBRARY, EVENTS, MEDIA CENTER, MY PROFILE.

Intro level courses
Courses are designed to provide users with the background, history, and rules of wrestling.

Courses for coaches
Courses are designed to improve the job of coaches by providing the users with many different concepts and strategies that they can apply in their current role.

Programs for referees
This provides a starting point for users that want to learn more about refereeing or how to become a referee.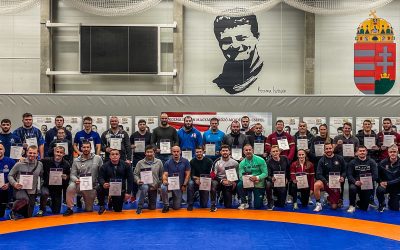 BUDAPEST, Hungary (November 10) – The Hungarian Wrestling Federation organized the first-ever high-performance regional coaching course.  In all, 32...